Elevate Your Brand with Eye-Catching Signage
Partner with the expert custom sign printers at T&C Signs in Sonora, CA, today and harness the transformative power of exceptional signage for your brand.
Short-term signs, such as event signage and custom yard signs, are essential for capturing immediate attention and creating a lasting impact. These signs are designed to be temporary, making them ideal for promoting events, campaigns, and limited-time offers. Whether you need eye-catching signage for a fundraiser or a grand opening, T&C Signs, your trusted custom sign maker, can create vibrant and engaging signs that effectively convey your message and attract the right audience.
As your local custom sign makers, we also provide long-term options such as Alumalite, MDO, and ACM, which are designed to withstand the test of time. These durable materials ensure that your brand's message remains visible and impactful, even after years of exposure to the elements. Whether you require signs for ongoing political campaigns or want to establish a lasting presence for your business, T&C Signs offers a range of long-term signage solutions that combine longevity with impressive visual appeal.


Explore Our Signage Options
Discover a world of possibilities at T&C Signs, where we specialize in crafting impactful signage solutions that captivate audiences and enhance your brand's presence. Our diverse range of signage options ensures that we have the perfect solution for your unique needs. This includes:
Yard Signs

Campaign Signs

Event Signs

Store-Front Signs

And More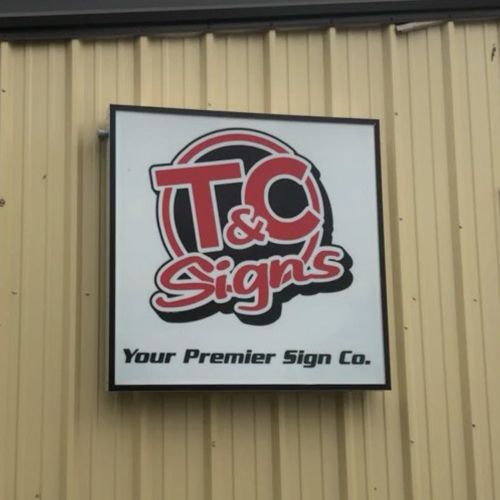 Why Signage Matters
Proper signage plays a pivotal role in our daily lives, often serving as the unsung hero of effective communication and navigation. It's not merely about marking locations or displaying brand names; it's about creating a seamless and intuitive experience for individuals. In today's visually saturated world, T&C Signs ensures your business stands out, leaving a positive impression on all who encounter it.
What our customers are saying
"I cannot say enough about how amazing T & C Signs have been for our business. They have been expedient, accommodating and very knowledgeable in every aspect of my advertising needs."
- Vicky H.
This is the place to go go for custom signs and apparel. They are great to work with and the quality is 10 🌟!"
- Cindy T.
"This place is absolutely professional as it can get. But at the same time they actually care about what their customers want and are down to earth. Their work was also incredibly impressive."
- Chad K.