Custom Vinyl Banners in Sonora, CA
Make a Lasting Impression with Custom Vinyl Banners
Enhance your brand's visibility and captivate your audience with eye-catching custom UV printed and HD quality banners from T&C Signs in Sonora, CA.
Are you looking to make a lasting impression and enhance your brand's visibility? Look no further than T&C Signs in Sonora, CA. We specialize in creating custom vinyl banners that are sure to captivate your audience. Our banners are UV printed with stunning HD quality, ensuring vibrant and vivid contrast.
We offer a range of options to suit your needs, including premium vinyl scrim banners that are affordable and great for mounting against solid back surfaces. For a tear-resistant and weather-resistant option, our HDPE reinforced banners made from high-density polyethylene are perfect for outdoor use. If you're looking for outdoor advertising, our mesh banners with small holes allow wind to pass through. Our banners also come with additional options such as break-away, wind slits, grommets, hemming, and pole pockets. With our custom vinyl banners, you can create personalized banners that make a statement both indoors and outdoors. Don't miss out on this powerful marketing tool – shop banners in Sonora at T&C Signs today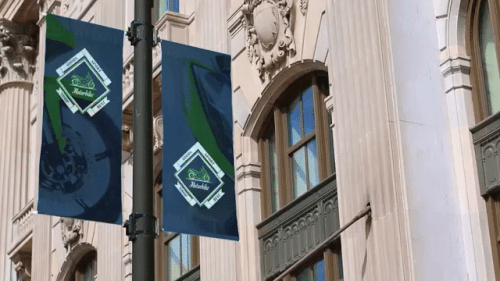 HD
Stunningly Vibrant
Vivid contrast. Highest pixel density.
Premium Vinyl Scrim
Available in 13oz, 15oz, this banner type provides an affordable single sided solution for most banner types. Comes with a fiber mesh which supports longevity and strength. Great for mounting against solid back surfaces. (Walls | Solid Fences)
Available in 18oz with a block out, 3 layer for double sided purpose.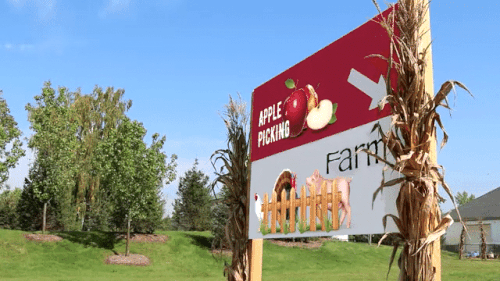 HDPE
Tear Resistant
HD Polyethylene material.
Weather Resistant
Water and air protection barrier,.
HDPE Reinforced Banners
Competitively priced recyclable, High Density Polyethylene (HDPE) banner offering an alternative to traditional PVC scrim banners. It's durable for outdoor use, weather resistant, and strong.
Short Term and Single Sided option only.
Mesh
Reduce Resistance
37% air flow with micro punctures.
Outdoor Solutions
Mesh banners are printed banners with small holes that allow wind to pass through. Used as a printed sign, mesh banners are used for outdoor advertising and are great for wrapping the perimeter of any construction site, event, concert, parking lot, chain link fence applications and the list goes on.....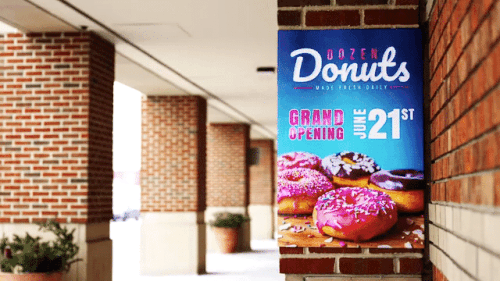 No Curl
Lays Flat
Remains flat even after rolling.
All Weather
Waterproof, weather and Fade Resistant.
No-curl banners are designed for use in retractor displays to make a great, easy to transport display. No Curl banner allows for edge to edge full color printing without the graphic curling. No Curl banners over a smooth face versus Scrim banner, ideal for trade show displays and graphics that are viewed up close.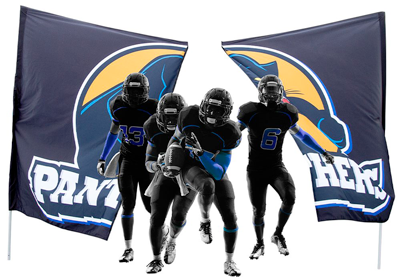 Break-Away
Break-Away Banner provides an optional Velcro seam down the center of the banner |Teams wanting to make a Big-Bang as they enter the field..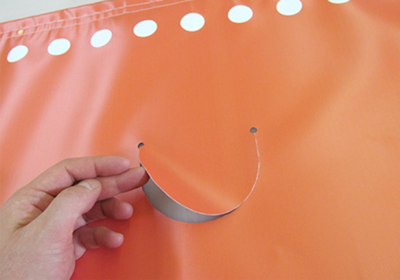 Wind Slits
Wind Slits Provide an easy fix solution to ripped and torn banners due to high wind and less grommet mounting options.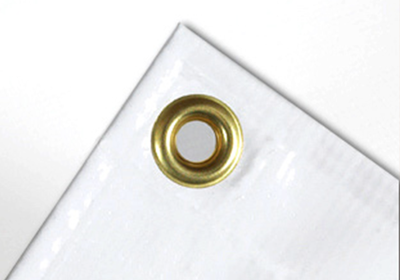 Grommets
Grommets are rings that reinforce the holes used to hang up a sign or banner, preventing the material from fraying or tearing.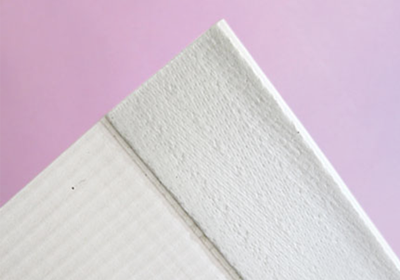 Hemming
A hem is when we fold the edges of the banner using doubled-sided tape. This gives extra strength and prevents tear-out.
Most of the lighter weight banners come with a hemm except for our blockout 16oz to 18oz banners.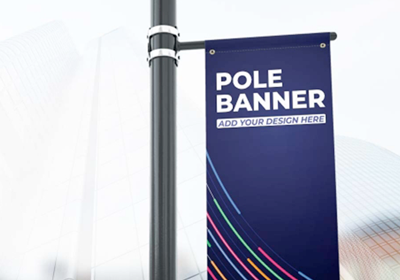 Pole Pocket
Pole pockets consist of either 2 inches or 3 inches of material wrapped around the sides, top or bottom of the banner. The vinyl banner material is folded over the back side of the banner similar to hems, but there is room for a pole or rod to go through the pocket.


The Benefits of Banners for Your Business
Banners are a dynamic and versatile tool that can significantly benefit your business in numerous ways. These vibrant and eye-catching displays serve as powerful marketing assets, instantly capturing attention and conveying your message effectively. Whether you're looking to announce a grand opening, promote a special event, or showcase new products and services, banners are the perfect solution.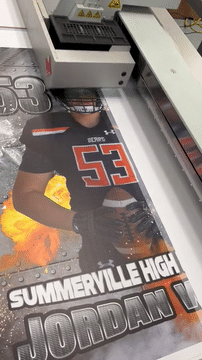 Why Choose Custom Vinyl Banners?
Custom vinyl banners offer numerous advantages compared to generic alternatives. Here's why you should choose custom vinyl banners from T&C Signs:
Tailored to Your Needs

High-Quality Material

Eye-Catching Designs

Attention to Detail
Contact us today and let us create custom vinyl banners that elevate your brand's visibility and make a lasting impression!
Let's Get Started
What our customers are saying
"I cannot say enough about how amazing T & C Signs have been for our business. They have been expedient, accommodating and very knowledgeable in every aspect of my advertising needs."
- Vicky H.
This is the place to go go for custom signs and apparel. They are great to work with and the quality is 10 🌟!"
- Cindy T.
"This place is absolutely professional as it can get. But at the same time they actually care about what their customers want and are down to earth. Their work was also incredibly impressive."
- Chad K.